May 14, 2019
Presentation of the SuperScalper EA Forex Robot
Those who have followed my newsletter for a long time, already know that I am happy to test any robot working with a scalping strategy. That's how I met the SuperScalper EA .
Although it was released in December 2018, I wasn't interested in it yet, because it didn't have any live account statement on its website. But I was so interested in it that I sent an email to the developer and received a live account statement from him. As the strategy requires quick fulfillment and a broker that endures the robot changing orders many times within seconds, the broker I used at that time was not suitable for this. Being a new robot, there was no other live account statement. But the website and the developer's communication show that they focus on development, not on an appealing website and the marketing texts. For this reason, I voted for it.
I started testing with the V2.1 version on an IC Markets ECN demo account, because there are my live accounts, too. You can see the statement here: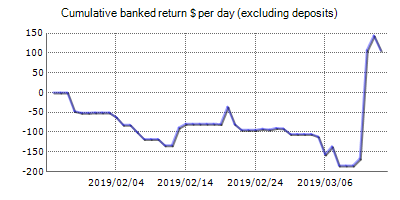 This early version was not active enough and it had only a few positions. But in the end, the test was positive, though the chart of results was often in the negative range.
These days, I started testing version V3.2, which trades much more often. For the time being, it was also launched at IC Markets, but the developer says they usually do not allow such frequent order changes. I even got a warning in a few hours because of hyperactivity. The developer runs the latest version at Tickmill on this demo account , so I opened one there as well.
Here's my new demo account:
The price of the robot may seem high, but if it works well, it can be worth it.
Its monthly subscription is $ 50, and you can use it for 1 year for $ 250 on 1 live account. The version that can be used for unlimited time on 5 live accounts costs $ 1,000.
You can find the website of the
SuperScalper EA here, where you can also buy it.