May 9, 2018
Presentation of the Auto News Trader Forex robot
My eyes sparkled when I saw the name of this Auto News Trader Forex robot. I thought, there was a super little robot finally that traded on the news. I can start searching again, which broker is closest to a vps of mine to get quick access. But we should not be so hasty. I will write about this later.
There is a live account statement on the web page, so the robot seems to be working. In fact, at first glance, we see a fairly good monthly average on it. But it's better to go deep in studying it a bit: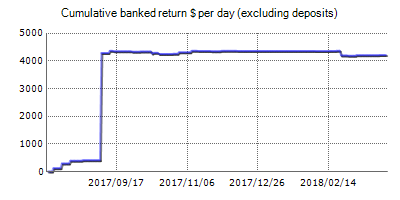 On the result chart, we can see at once, that a series of trades is responsible for the nice monthly average, which this robot managed to make on September 6, 2017. It managed to achieve 114% then. It probably had luck, because after that the profit was quickly withdrawn from the account and it was not able to make such a good trade again. The result of the first month is still remarkable, 13%. Then, since October, the monthly average has been within +/- 2%.
What the next will look like? I do not know. It seems that there is some potential in this robot. Could it be that it has luck once a year only? I do not know. Anyway, I've got it, so I can check the results myself.
The web site has investor's access to the previous account and to another former account. If you are interested in it, you can take a look.
But when installing the robot, I was surprised. It turned out that there was only one copier in the downloaded file, which has an advantage and a disadvantage. The advantage is that the logic and keeping it up to date is not our job, and we cannot mess up the settings. Hopefully, they will be supervised well. The disadvantage is that copying is another step in the trading chain. I do not know how copiers will succeed, because there are positions in the list of trades that last for a couple of seconds only, these can be sensitive for the increased response times. The future will tell. It will be probably better in demo than on a live account. But for the time being, I will try it only in demo.
It is available at two prices. The one-year version costs USD 197, while the "eternal" license is USD 397. Certainly, each one has a 30-day money back guarantee.
You can find the website of the robot here, where you can also buy it:
My own demo account can be followed here: